California State Capitol


Lincoln Memorial


Guggenheim Museum


Federal Treasury, Wash D.C.


Jefferson Memorial


Wise County Courthouse, TX


Methodist Health Care, TX


UT Hackerman Bldg.


TAMU ETED Bldg


MD Anderson Banner, AZ


TTU Administration Bldg.


Sammons Trauma Center, TX


Pima County Courthouse, AZ


Evergreen State, WA


Arizona Supreme Court


Phoenix Children's Hospital, AZ


UTEP Health Sciences


Wishard Health Care, IN


Wilson Bldg. DC


Giralda Tower, KS


Stillwell Subway Station, NY

---

Additional Educational Institutions


Arizona State Poetry


Rice Univ Admissions


Univ of Miami Law


Texas A&M (Kyle Field)


SMU, Dallas


Notre Dame University


University of TX (Harry Ransom Ctr.)


University of TX (Galveston)


University of TX (Stadium)

---

Commercial Buildings


The Plaza - Kansas City


River Center - San Antonio


Northern Trust Bank

---

Historical Structures


Renwick Gallery


Interaudi Bank - New York


First Presbyterian - Dallas

---

Medical Facilities


SMU Memorial Health Center


St. Mary's Medical Center


Laguna Honda Hospital


UT SW Medical Center


UT Medical Branch - Galveston


Stony Brook University Hospital
,
"Avian FlyAway, America's Bird Control Experts!"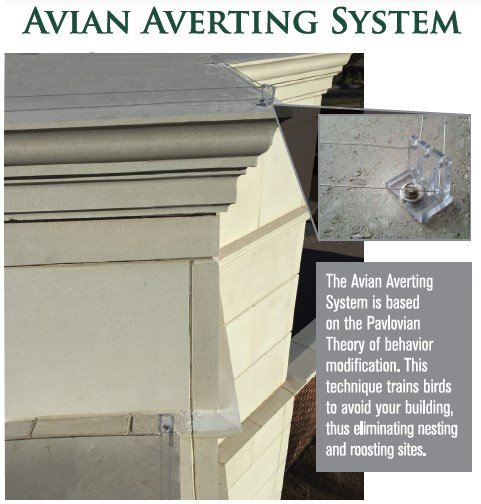 Why Avian FlyAway Inc, is the
#1 pigeon control system in the US
The Avian Averting System, the #1 Pigeon Control and Bird Deterrent System
Ledges and parapets attract pigeons and other birds. The Avian Averting System electric barrier is a proprietary product that works best, lasts longer, and looks great, it is virtually invisible after 25 feet. It usually lasts over twice as long as our 12 Year Limited Warranty. Following is a brief about why Avian FlyAway OSHA certified installers, experienced avian control experts, and professional deterrent design is the best value in the bird proof business.
The Avian Averting System "Pin and Wire Historical Compliant Design or Floating Air Insulated Spring Tension Design" Electric Barrier is behavior modification via a mild electrical shock proven safe and humane over several decades. Proven safe for almost 30 years for pigeons, vultures, starlings, gulls, and grackles. The system is a combination of pin and wire with the extra deterrent of electricity to totally eliminate bird problems is all situations. This form of behavior modification is the most reliable avian deterring method. It is also considered one of the safest and humane for bird species because the mild pulsing impulse is proven harmless. This is in contrast to bird avicide poisons and sticky gels that are considered inhumane. Worth noting is that the mild electric shock is considered safer than nets that frequently entrap birds that get in but cannot get out, and spikes that frequently impale and injure many bird species. The Avian Averting System is safe for pigeons, vultures, grackles, gulls, starlings, and all birds.
AFI's Avian Averting System Electric Barrier is scalable to almost any installation application and fastens permanently with stainless steel screws, stud welds or adhesive. AFI introduced in 2011 a non-penetrating glue down insulator that outperforms by leaps and bounds any other non-penetrating electric barrier on the market. This is because it is the same high performing sping tension electric barrier system from Avian FlyAway using a new revolutionary Lexan adhesive fastened or shadematch insulator. The Avian Averting System - GlueMaster electric bird barrier is installed with an adhesive system proven to last over 25 years in architectural situations!
AFI electric barriers are designed into the structure by professionals with decades of electric barrier experience. Unique knowledge of pigeon behavior is applied to the design. The system will work immediately and continue to successfully alter the bird's behavior as long as it is plugged in to electricity. Thus, the Open-Wire Design Electric Barrier provides unmatched performance and design.
The Avian Averting System Electric Barrier components are durable lasting at least 20 years or more in full sun and several decades in the shade. Our Avian Averting System floats just over the surface in the air by spring tension. Air never deteriorates, air lasts forever. Our Lexan insulator lasts 25+ years in full sun. Thus, our solution lasts at least 3 to 5 times longer than any other electric barrier laying flat sewn onto or embedded on a plastic insulator. Also, laying flat collecting dust and other contaminants means plastic track systems require regular cleaning. The Open-Wire Design Electric Barrier requires NO CLEANING.
The Open-Wire Suspended in Air or Spring Tension Design Electric Barrier looks great being transparent/clear and matching its surroundings. In addition, you may use connecting wires via the same Open-Wire Design invisible system, which makes it the only system on the market that may connect virtually invisibly across the face of the structure. Thus, aesthetics are great being both exceptional and unique. (AFI's Avian Averting System electric bird barrier is virtually invisible from 25 feet)
The Open-Wire or Sping Tension Design Electric Barrier is designed to provide decades of service, it is the only electric barrier that is designed and proven to last, really last, with no cleaning required.
Why is there no substitute for Avian FlyAway's Spring Tension Design Electric Barrier?
Netting- Bird Control Netting will not treat protruding ledges or sunshades and the top of parapets. These are critical bird control architectural constants. Netting will not look that good in many instances because of netting shadow and the netting frame that bird control netting requires as a fastener. Netting does not offer behavior modification for the flock; it is merely a "blocking" barrier. Netting is good for blocking access from below metal beam roofs and awnings, unfortunately it also may block access to workers and destroy a nice view. AFI uses netting sparingly because it is seldom the most efficient solution.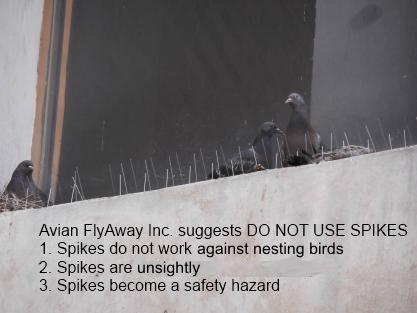 Spikes- Bird Control Spikes do not work in nesting situations and are extremely unattractive in most situations. Any company that offers spikes as a real professional solution in almost all situations is probably not a bird control expert. Bird Control Spikes are typically sold by rat trappers and bug sprayers moonlighting in the bird control business. These businesses purchase these bird spikes from do it yourself stores and install them in a non-permanent fashion. Eventually, they fall down becoming a safety hazard. We have seen hundreds of instances of spikes not working well for much longer than a few months because pigeons will build nests on top and around them. Smaller birds like sparrows and starlings will use the spikes to anchor their nests. You can do better than spikes performance and the undesirable image spikes attaches to you and your organization.
Barrier tracks- Barrier tracks, strips, and tapes will not last in the sun more than a few years. In addition, they must be cleaned or they will short out. That is just how electricity, dirt, and humidity works. Just like windows after a dust storm, barrier tracks, tapes, and strips collect dust, pollution, and humidity, and if not cleaned regularly may stop working. AFI will mostly discontinue use of strips, tracks, and tapes because they are too high maintenance, costly, and inefficient. We have a much better option. AFI has invented the Avian Averting System-GlueMaster Avian Averting System electric bird barrier insulator; thus, rendoring tracks, tapes, and strips totally obsolete!
Thus, companies that are not really in the "guaranteed results" bird business may offer solutions, yet they are frequently not really solutions. Avian FlyAway guarantees results nationwide and has been doing so for over 28 years.
There is no substitute for Avian FlyAway Inc.
There is no other bird control service or system on the market that can match Avian FlyAway's professional design, installation, and product durability, aesthetics, and results with hundreds of installations and years of experience backing up our nationwide guarantee. The Open-Wire Design Electric Barrier is a proprietary product with proprietary design. Thus, there is no substitute in product or professional service.
Okay the Avian Averting System electric barrier is best with a lifetime cost much lower than any other product, buy why should I choose Avian FlyAway design and installation services?
Proven products thru proven providers save you time and money. Expert bird control that looks great, works really works, lasts a long time, and is proven to work in all situations is a highly specialized service. Applying the resources and time to procure a bird control system that may not work, looks unprofessional, is short lived, and installed by workers not familiar with the necessary safety precautions and regulations is not in the interests of any professional organization. Avian FlyAway, Inc. gets you what you want, the best solution at the right price. In other words AFI is an efficient use of your professional time and resources, and is thus, a good fit for your professional image. It is clear, Avian FlyAway allows any organization concerned about their professional image to deliver the perfect bird control solution to employees, clients, and visitors. Finally, remember that the Avian Averting System is safe for pigeons, vultures, grackles, gulls, starlings, and all birds. We are the HUMANE SOLUTION.
Avian FlyAway - The Proven Experts!