Click here to view our install gallery.




Historical Structures (View all sectors)
Lincoln Memorial
Thomas Jefferson Memorial
Heritage Hall - Vancouver
Littlefield House
California State Capitol Building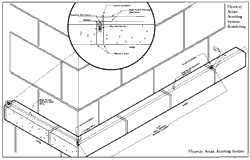 Click for enlarged view of the Avian Averting System/Air-Insulated Electric Barrier


Arizona Bird Control and California Pest Bird Control. Invisible Bird Proofing Leader since 1988 - Satisfaction Guaranteed!
Pigeons, Grackles, Starlings, Vultures, Buzzards, and other pest birds. We are bird control experts, bird relocation is what we do all day, everyday, we are not a bug company saying we can do birds! From residential balconies to large commercial complexes, Avian FlyAway is the Arizona and California choice for bird proofing structures and pigeon relocation.
FlyAway's "Invisible" Electric Barrier
Safe, Harmless, Permanent, and Scalable to Any Application


"Air Insulated" and Engineered for Efficiency


Simply the Best and Most Effective Pigeon Control Solution!



Costs Less
Looks Better
Lasts Longer

The Best Commercial Bird Control Solution - Satisfaction Guaranteed


Arizon'a Expert Elimination of Pigeons, Vultures, Buzzards, and Gulls



To bird proof your Arizona building, Avian Flyaway's Avian Averting System is the ultimate pigeon control solution; it is based on the Pavlovian theory of behavior modification. Imagine an entire flock of birds simply flying away! Behavior modification techniques train birds to avoid your property, eliminating nesting and roosting sites. Flyaway treats WHY birds are there; not where you see them. The Avian Flyaway bird deterrent will bird proof your structures, when you want to get rid of birds our electric bird removal system is the best.





The pest bird receives a punishment signal similar to the static charge one gets when shuffling across a dry, carpeted surface and touching a doorknob. The discharge feels uncomfortable, but is actually harmless. AFI's bird deterrent system causes the birds to fly away and stay away.





Our bird deterrent system is virtually invisible, using UV protected clear polycarbonate insulators or Flyaway's new moldable barrier strip. Aesthetics are stressed with all bird removal installations. Our systems have a low visual impact and are ecologically sound. We use no chemicals or mechanical flight obstructions that may harm the birds. Your bird problem is solved; AFI is the commercial leader in invisible bird proofing solutions.





Avian FlyAway is the commercial bird control installation leader in the US. We bird proof your building, satisfaction guaranteed. Our invisible electric bird deterrent is simply the most effective system for bird control nationwide; it costs less, looks better, and lasts longer.






---



"Flyaway's Avian Averting System solved a major problem, by eliminating pigeons nesting and roosting in a mechanical chiller area. No fuss, no mess and excellent results. I highly recommend the professional expertise of Flyaway."

Patrick W. Murphy, Jr. -Biomedical Research Center, Shreveport, LA




---



"Avian has installed their system on 12 of our buildings. Every installation has been not only 100% effective, but also virtually invisible. It's difficult to find a company that stands by their promise as they did."

Santa Clara University - Santa Clara, California




---



"Avian FlyAway installed their Electric Barrier System on a number of buildings on our campus. We have absolutely no sign of pigeon droppings or feathers after several years since the system was installed. Other methods used to solve the problem had little or no effect."

Colorado College- Colorado Springs, Colorado




---



"We are extremely satisfied with the Avian FlyAway Electric Barrier System and would recommend the system without hesitation. The pigeons left immediately and have not returned after several years."

University of California Davis- Davis, California




---



"Thank you for the outstanding job you and your co-workers did on the installation of our Bird Relocation System. I can't begin to add up how much time and money your system has saved the University."

Texas A&M University- Corpus Christi, Texas




---




Avian FlyAway's Invisible Bird Relocation

> Air Insulated Open-Wire Electric Barrier

> The Best Commercial Bird Proof Solution

> Satisfaction Guaranteed Bird Control

> Custom Designed/Installed Nationwide





---